---

01
Water of Mt.Fuji

Directly to you from Japan
"Premium Water" is a natural water deeply filtered out in the country of trees and water, Japan. The water cleaned by the stratums for over 60 years by the foot of Mt Fuji, contains not only vanadium and zinc, but also calcium, magnesium, potassium, and sodium in the best balance. We will deliver the best water from Japan to you.
02
Clear Taste
Since heated water lose the dissolved oxygen, which is the important element to make a clear, good water, "Premium water" is non-heated. Therefore, the natural, smooth taste of water could be enjoyed. There are only two water dispenser dealer which is permitted to use the non-heating processing in Japan.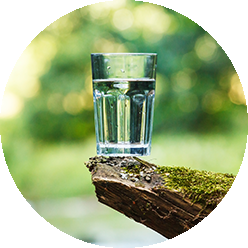 03
Nutrient
A drinkable mild alkaline ion water
Water can be separated into two types; "soft water", which is soft and smooth, and "hard water, which is hard and heavy. The water including calcium and magnesium becomes harder. Since premium water is an alkaline soft water, it does not give stress to the stomach and intestines, and lets the body supply water easily.

The four main minerals, calcium, magnesium, potassium, and sodium are included in the best balance. Zinc changes protein not only to hair, but also tissues such as muscles, bones, and internal organs. Also, since vanadium lets the blood sugar level fall, it is noticed in Japan lately.
12 litter bottle: nutrient included in water per litter
Four main minerals
Sodium
6.8mg
Calcium
6.4mg
Magnesium
2.2mg
Potassium
1.2mg
Small amount
mineral
Vanadium
91μg
Zinc
10μg
Water quality
Hardness
25mg
Dissolved Oxygen
8.2mg
pH-value
8.3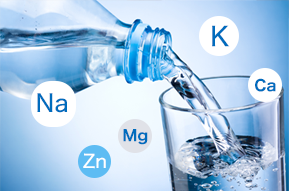 04
Safe and Sanitary
The under-ground natural water protected from radioactive substance
Premium water only draws up the water which is filtered out among many years from the under-ground water source. It is a safe and clear water, protected by the rich nature of Japan.
Radical quality control
Premium water uses a filter for disinfecting instead of heating processing, and bottles them at the sterile room. Enjoy the safe and high-quality water with plenty of mineral contained inside.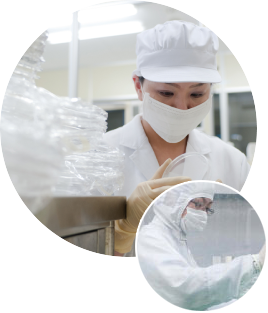 ---

Images 01
For health and beauty
Compared to hard water, Premium water is easy to drink and best for constant water intake. It helps the speed up of metabolic rate, which is essential for health and beauty.
Soft water is skin-friendly, and does not make your skin dry or stiff.
Images 02
For cooking
Make your dishes better by using high-quality water for cooking. Since Premium water is soft water, it brings out the taste of the ingredients and makes your dishes even better. Hot water can be used any time, so it is usable when making an instant food.
Images 03
For the baby's milk
Since it is said that soft water is better for babies, Premium water is best for making the baby's milk for it does not give stress to stomach, the intestines, and liver. Also, 90% of an unborn baby is water. We recommend Premium water for pregnant mother as well.
Images 04
In the office
A high quality Premium water is best not only for refreshment, but also perfect for a reception for the guests. It is useful when making some tea or coffee as well. The stylish dispenser would be a perfect accent for the office.
---

Family of five

Number of users

5 (2 adults, 3 children)

Amount of order

​​2 sets (12ℓ×4 bottles)

「We all love Premium Water!」

It is convenient when we need to make the baby's milk, and we really feel the difference of the taste when we use Premium Water to cook Japanese rice.

Thanks to Premium Water, the condition of our skin is better, and does not get dry.

Our 10-year-old son used to drink soft drink often, but now he is enjoying
drinking water from the dispenser.

2 ladies room sharing

Number of users

2 (2 adults)

Amount of order

​1 set (12ℓ×2 bottles)

「The used bottles are easy to
throw away」

Since Premium Water is a natural alkaline water, it tastes smooth and clear, and there is no smell of chlorine.

Since we are using the dispenser now, there is no use to change the filter. The used bottles are very easy to throw away.

Hot and cold water are usable, and the design of the dispenser is stylish and fits the interior of our room.

In the office

Number of users

20 people

Amount of order

8 set (12ℓ×16 bottles)

「Both our staff and guests loves it!」

Our staff members use hot water
usually for instant coffee and food for
lunch.

It is also useful when we need to
make a cup of tea for an unexpected
guest.

The natural water tastes better than
the RO water, and it seems like our guests are finding it better too.
---

01

Feature Of Dispenser
The latest, functional water dispenser.

Convenient function
"HOT" and "COLD" water in one dispenser
Enjoy both hot and cold water in one dispenser easily.
You can also make tea and coffee at once even for sudden visitor. Handy and convenient.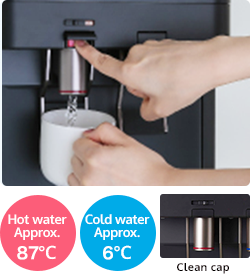 Enjoy the freshness
Once bottle is set on dispenser, it shrinks as much as water is used. Therefore, it prevents air from entering inside. Natural water segregated from ambient air is sanitary until used up.
It also prevents natural water flavor with natural oxygen diluted in from deteriorating, and keeps the same deliciousness until the end.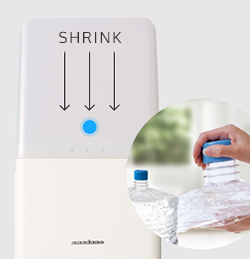 Safety-first child lock
Both cold and hot water dispensers are affixed with a safety child lock, so it is safe and reassuring to use for households with children.
Additionally, there is a removable tap cover which restricts the operations of both taps, preventing accidents when handled by young children.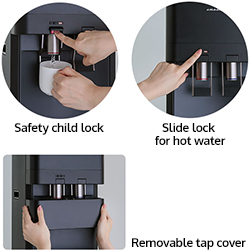 Disposable Water Bottle
Since the bottles are disposable, it is always new and clean.
Therefore, your water will always be delivered sterilized.The empty bottle can be thrown away as a household garbage or a recycling garbage.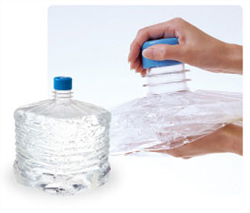 Sign in "My Page"
When is my next delivery? How to change the delivery date?
After login, you can check and change "the date of delivery" and "your information registered". In addition, you can download "tax invoice" from MY PAGE.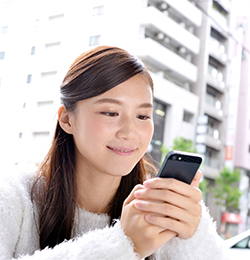 02

Color & Size
Three colors are available.
Water Dispenser (Height:1326mm)

COLOR 01

WHITE

Perfect for a simple room.

COLOR 02

BROWN

The wooden color makes your room warm and comfortable.

Color 03

BLACK

Enjoy the modern and sophisticated color.

Height:1326mm
Width:270mm
Depth:330mm

Weight:17.8kg
Bottle capacity:12ℓ
03 GALLERY
Useable in many situations.
04

RATE SYSTEM
SAVE $10 OFF YOUR EVERY "Premium Water" BOTTLE.
$10 off for your every set of "premium water", if you purchase a water dispenser during this campaign period.
*Refundable deposit of $200 required.
**Minimum delivery is 1 set (2 x 12L bottles) every 4 weeks. Amount and delivery frequency can be increased up to 10 sets once a week. Service may be suspended for 59 days without charge.
05

OTHERS
| | |
| --- | --- |
| Payment | ・Credit card(Only VISA & Master) |
Return of the deposit

【Cancel of less than 1 year】

【Cancel of less than 2 years】 
【Cancle of more than 2 years】

$0

$100 Cashback
$200 Cashback
FAQ
I would like to know the flow until the use.

After application by web or telephone, the dispenser and water will be delivered in the shortest,three buisness days.

About the skip of regular purchase.

59 days of suspend is possible.
If you are going to suspend for over 60 days, charge would be needed.
From how many days before should I contact to change the date of delivery or the amount of bottles of water?

Your water would be delivered automatically by our delivery service.
Please let us know your request by at least a week before the delivery by phone, or by changing your information from the customer's page.(exept the end and the beginning of the year)
Does a natural water have an expiration date?

Please drink the opened bottles in at least a month.
(We recommend to drink the opened water as soon as you can.)
And please keep the bottles of water where there is no direct sun, and is dry and cool as possible.
The expiration date of the unopened bottles are six months.
Can the water be used for baby's milk?

Please feel safe to use it for your baby's milk.
It is important to use soft water for milk, since the minerals included in hard water may harm your baby.
About how much will the electric bill be for the dispenser?

It depends on the frequency of your use. The average would be about $10 (when the eco mode is on).
However, there is an advantage that the number of times opening the refrigerator and using the kettle by gas or
electricity will decrease.
Attention (About the present campaign)
※It may be dispatched differently, but the present (12l ×2 bottles of water) would be sent with the dispenser and water you ordered.