Get 2 Free Bottles
on your first order
Naturally pure, crystal-clean flavor.

Keeping hydrated is crucial to our daily health and well-being. However, many people don't drink enough water because they don't like the flavor of tap water - it may taste like chemicals or other unpleasant flavors due to the source, city pipes or tap faucets. The pure taste of Premium Water reflects its pure source, natural mineral components, soft alkalinity, high levels of dissolved oxygen and clean quality.
Naturally sourced from Mount Fuji, Japan.

Premium Water is sourced from Fuji Yoshida spring of Mount Fuji in Japan. A UNESCO World Heritage site, Mount Fuji is famous for the pure spring water that comes from its snow-capped peak, which percolates 200 m underground for over 60 years. As the water passes over and through the volcanic rock, it's naturally filtered and purified and picks up key minerals such as calcium, magnesium, potassium, sodium, vanadium and zinc. This means the water extracted from the Fuji Yoshida spring - Premium Water - contains essential minerals to support everyday health requirements.
Naturally balanced in essential minerals.

Water is necessary for supporting and maintaining essential bodily functions, from metabolism to temperature regulation, so it is important to have a daily drinking water with the right balance of minerals. Premium Water has a delicate balance of calcium, magnesium, potassium, zinc and vanadium. Whereas other mineral waters go through a purification process that requires minerals to be artificially reintroduced, Premium Water's unique 4-step filtration method allows it to retain this natural balance.
Naturally alkaline.

Water is often analysed on its alkalinity levels, where "soft water" is more alkaline and "hard water" is more acidic. This reading is based on the pH scale - pH 0 is the most acidic, pH 7 is neutral, pH 14 is the most alkaline. Alkaline water helps to neutralize excess acid that may be produced in the stomach due to factors such as stress and diet, is high in antioxidants and rich in vital minerals, all qualities that help promote balance in the body, from the bloodstream to our digestive system. The average pH range of tap or bottled water is 6.7 to 7.4 pH, whereas Premium Water has a pH of 8.3.
What Makes Premium Water Unique?
Swipe
Natural Mineral Water
(Premium Water)
Purified Mineral Water
(Distilled; Deionized; Reverse Osmosis)
Tap Water
Source
Fuji Yoshida Spring, Mount Fuji, Japan
Natural spring
Groundwater or surface water
Processing Method
4-step filtration (non heat-treated)
Heat-treated; Treated with chemicals;
Filtered through membrane
Filtered, disinfected
Alkalinity
Alkaline (pH 8.3)
pH 3.4 to pH 9.0
Neutral (pH 7) to slightly acidic
Minerals
Naturally occurring
Artificially added after distillation
Minimal, varies, often artificially added
Introductory Offer ONLY
2 x 12L Water Bottles FREE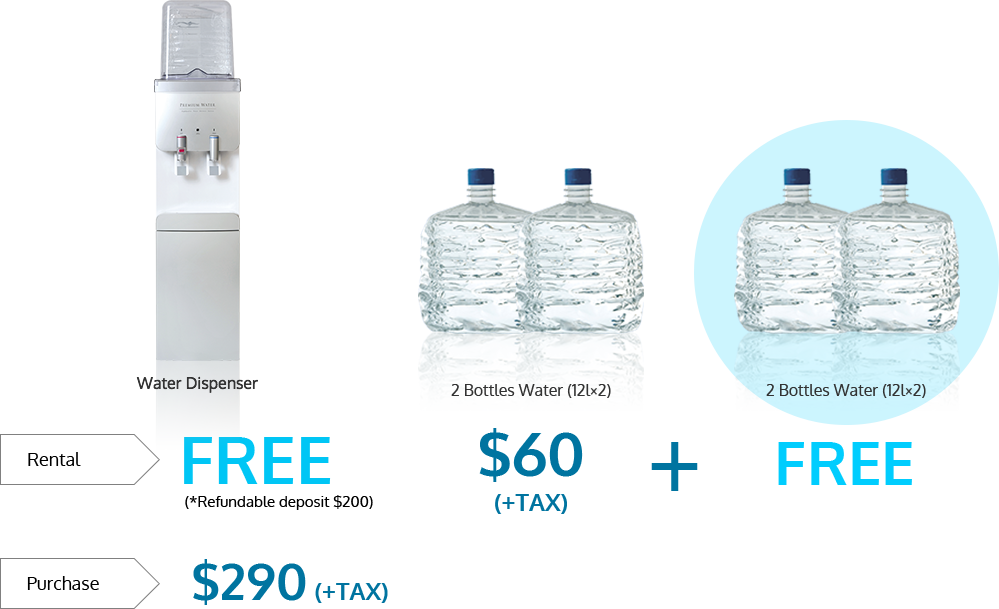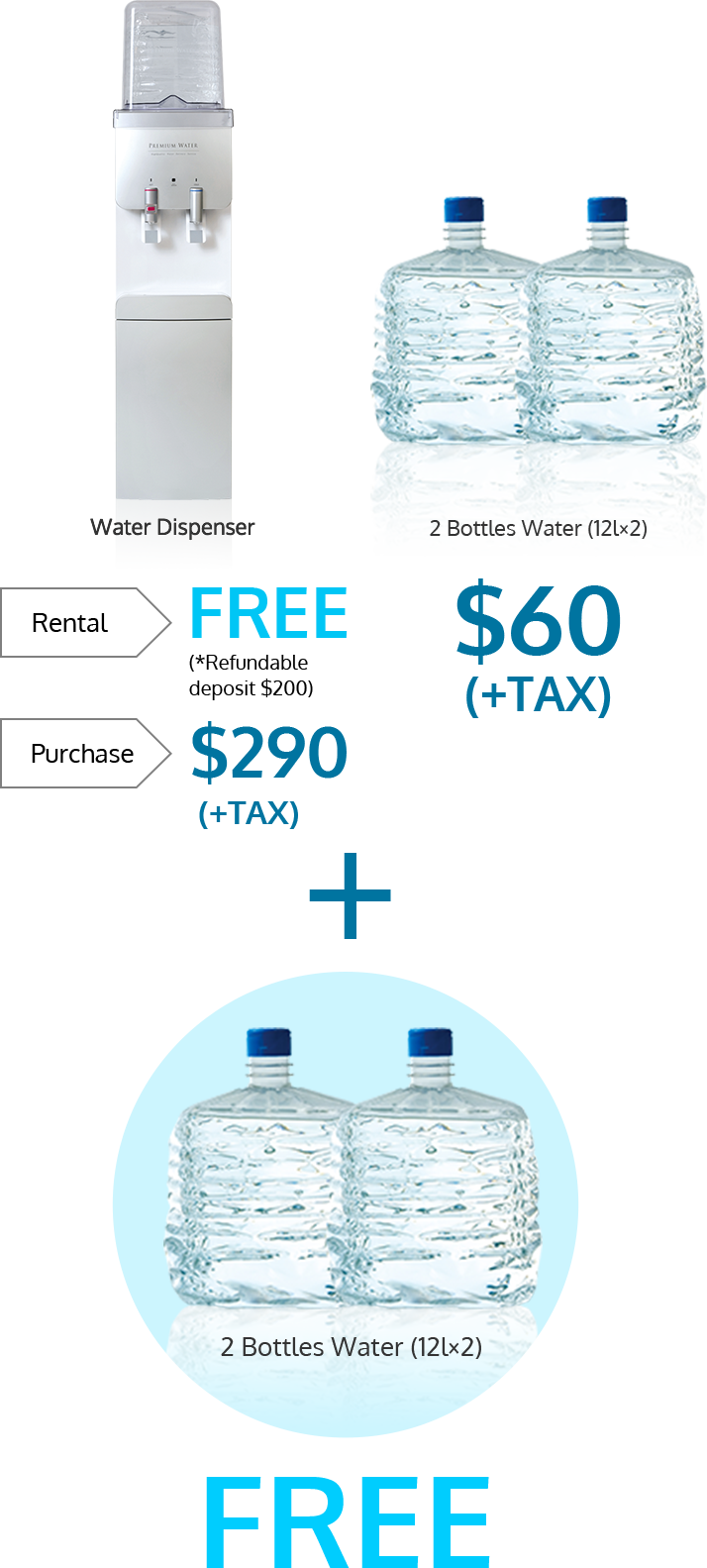 Special offer
* On Your 1st Order
Water Delivery Subscription Options
Tailor your order to suit your needs: 1 set (2 x 12L) of water bottles to 10 sets.
Delivery every 1, 2, 3 or 4 weeks. Manage orders from your My Page profile.
Choose a Dispenser
Color to Suit Your Needs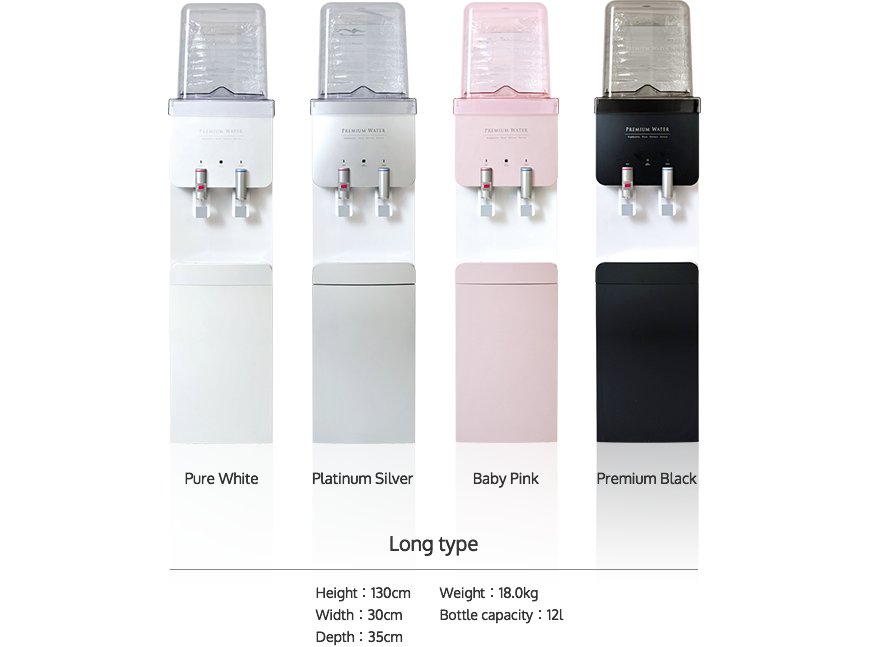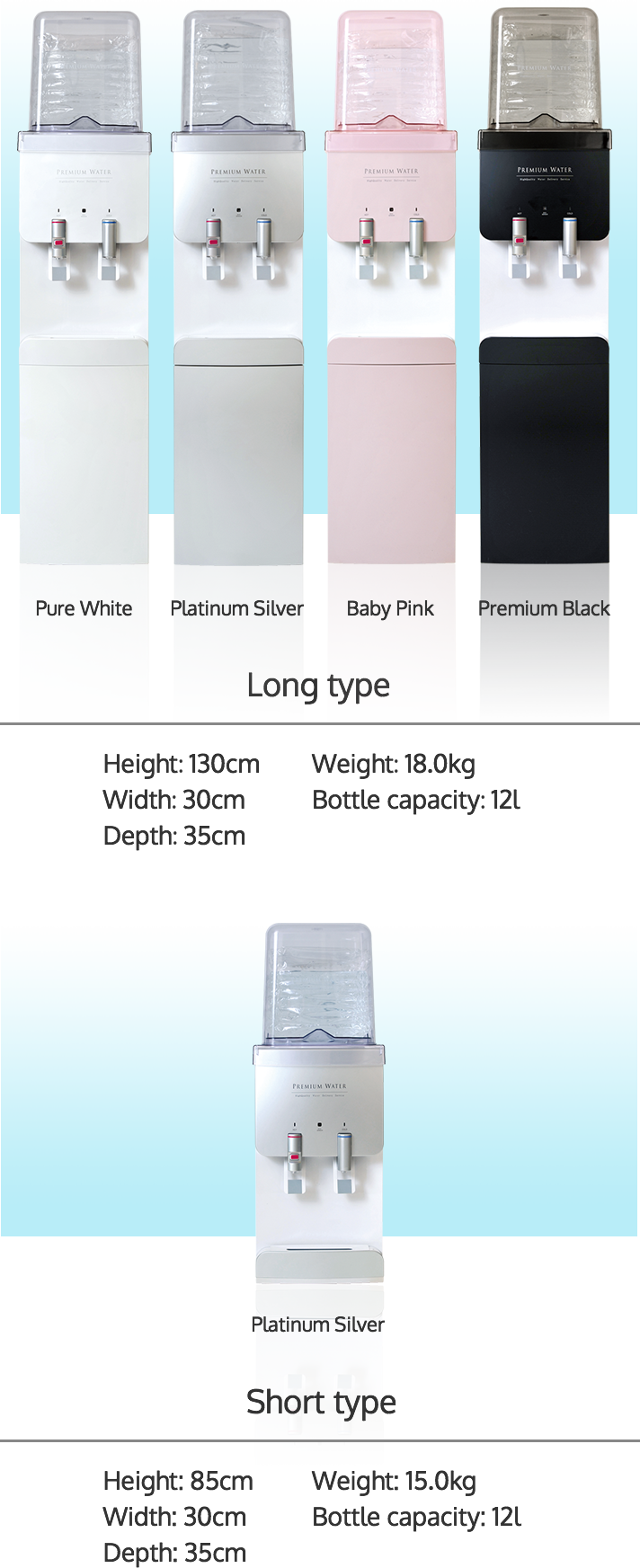 Internationally Recognized
High Quality Water
Awarded 4 Consecutive Years
Premium Water's natural mineral water has received awards from both the Superior Taste Award for iTQi (International Taste & Quality Institute), and Monde Selection for 4 consecutive years. At the iTQi award, we received a two-star rating as a "Remarkable product", for products with marks between 80% and 90%. At the Monde Selection we received the "Gold Prize", for products with scores on average between 80% and 89%.
From Our Customers
We all love Premium Water!

The system is very convenient when we need to make milk for our baby, and we really notice the difference in taste when we use Premium Water to cook rice for our family.
Our 10-year-old son used to drink soft drink often, but now he is enjoying drinking water from the dispenser.
Also, thanks to Premium Water, our skin condition has improved, and does not become dry.
The used bottles are easy to manage

Since we are using the dispenser now, there is no use to change the filter as with our previous system, and the used bottles are very easy to dispose of with our recycling.
Having both hot and cold dispenser taps is a real bonus. And, since Premium Water is a natural alkaline water, it tastes smooth and clear, and there is no smell of chlorine.
The design of the dispenser is very stylish and fits the interior of our room.
Both our staff and guests loves it!

Our staff members use hot water for instant coffee and food for lunch, so having delicious-tasting hot water readily available on tap is extremely convenient. It's also useful when we need to make a cup of tea for an unexpected guest.
The taste of Premium Water is better than our previous RO water system - more natural-tasting. It seems like our guests are finding it better too.